Tru Fire Course
Fire is a huge part of my portfolio. I learned from Mike LaVallee here at my shop years ago and improved upon the techniques by experimentation and years of study. My fire has been featured in many magazines and art exhibitions. Now its yours. I have held on to this technique for decades and now I will share my secrets with you in this easy to understand symposium. Learn how to make your fire dance, to express the true anger and terror it embraces. You will find that you can do this with these techniques. 
Materials List
 Waterborne or Urethane base colors as follows. - Yellow, orange, white, candy yellow, tangerine.
Airbrush-
Template kit or I will show you how to make your own templates. Tack rag . Ventilation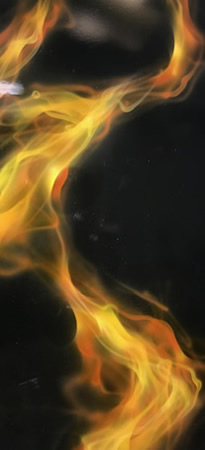 Fire has personality, it lives and breathes. It is not static but violent and fast. I will show you hot to SEE its movement and action and render it like never before.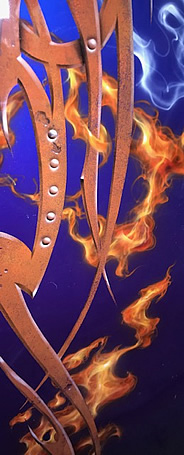 Fire can add to your artwork and increase your bottom line. I will show you any usages of fire to build your portfolio and impress your customer base. 



Fire doesn't have to be conventional. Learn how easy it is to render blue, green, or even rainbow colors in your fire. I have had many requests for "color" fire. Heres how easy it is....
Featuring Alph 6 Corp Paint & Tools
Gold Leaf, Metallic Paint, Pinstriping Kits, Brushes, Paint & Solvent Cups, Pinstriping Pallets, Mack/Tidwell Brushes, Blank Panels, Brush Cleaner, and Reducer, etc.
All your painting needs are in one place. Great prices.
Get all your supplies here in one place.